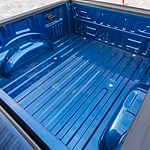 When you want to have top performance in a pick-up truck, then you will want to look at the popular Ford F-150 pick-up. This is the truck that has dedicated fans all over the West Branch area. Here's a look at what the F-150 offers in its current model.
The Ford F-150 offers you six exceptional powertrains. You get a standard V-6 with best-in-class torque for excellent towing power. Also available is a 5.0-liter V-8 engine that gives you some serious performance whenever you need it. Any powertrain is dependent on the quality of the transmission. That's why the Ford F-150 comes with an advanced 10-speed automatic transmission. This is the transmission that can give your quick shifts when you need it.
We are ready to show you the incredible performance features of the Ford F-150. Stop by and take your test drive of the F-150 at Dean Arbour Ford of West Branch Inc. Save big today.