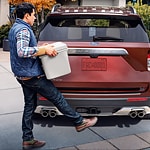 The new Ford Explorer's performance features have our entire Dean Arbour Ford of West Branch Inc. team really excited. Each feature confirms why Explorer repeatedly bests rivals in the three-row SUV category. Here are two performance features that illustrate what we mean.
Tow Like a Pro
Properly equipped, Explorer tows up to 5,600 pounds. To keep you and yours safe on roads in West Branch or in off-road scenarios, there's Towing and Trailer Sway Control. With this ingenious technology, Explorer adjusts engine output and brakes selectively to counter trailer sway, helping you adjust, drive more safely or pull over when necessary to repack and redistribute trailer contents and weight.
Roaring Rear Wheel Drive
Explorer's beastly towing capacity is partly a benefit of its standard Rear Wheel Drive (RWD). Rear wheel architecture supports the weight of the engine and transmission, conveying exceptional traction, better off-road capability and a sportier silhouette.
Consider test driving Ford Explorer at our dealership today. It's the best way to experience its standout performance for yourself.